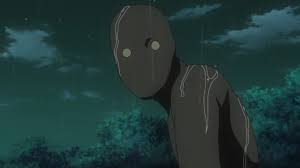 Name
: Kiku
Age
: >1 month
Village
: None (Koten)
Rank
: S-rank
Clan
: Uchiha
Appearance
: Kiku appears as a solid black humanoid figure with two yellow orbs as eyes, being his only distinguishable facial figure. He was created by Kosuke using the Infinite Izanagi, to act as a totally loyal spy for Koten. He has access to a few of Kosuke's techniques that are the most beneficial for spying and infiltration, he was also melded with some of Kosuke's wood release chakra. But aside from these, he has no real combat prowess and as such avoids combat almost totally.
Personality
: He doesn't talk to anyone and is only able to communicate with Kosuke telepathically due to their link, though he is capable of using the Koten seal to communicate with anyone branded with it. He just chooses not to. He is totally loyal to Kosuke and by extention Koten, to the point that he will do anything to protect the two.
Top three skills
: Traditional Ninjutsu, Space-Time Ninjutsu, Fuuinjutsu
Stats
:


Strength: 35

Speed: 100

Durability: 100

Stamina: 30

Perception: 35

KKG
: Wood Release
Jutsu
:
1] Mayfly
2] Wood Release: Wood Dragon
3] Wood Release: Wood Locking Wall
4] Wood Release: Wood Clone
5] Crystal Release: Twin Tearing Falling Dragons
6] Crystal Release: Crimson Fruit
7] Iron Armor Seal
8] Fire Sealing Method
9] Spirit Transformation Technique
10] Vanishing Facial Copy Technique
Purpose
: To serve as a spy and the main information gatherer for Koten.