Name: Hades
Type: Weapon
Custom/Canon: Custom
Rank: S
Material: Chakra Conducting Steel
Appearance: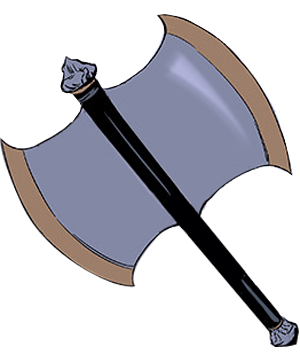 Unleashed State: The true form of Messad is aggressive and menacing. Upon imbuing more power on the axe's suppressed form, a silver Minotaur Skull appears on the top of the blade, the shaft turns silver and ornate, the cheeks turn black, and red veins start to appear all over it to drench the blade in blood.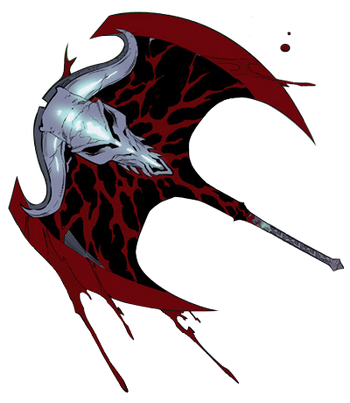 Abilities:
Medium: This weapon has the ability to siphon and transfer half of the damage the user suffers from a single attack. Whatever strength the opponent is at the time of the attack the weapon reduces the damage that would be dealt by causing the strength stat to be half and the remaining strength state to be applied to a state of the users choice. (Example: Kosuke attacks Okami at 200 Strength. The weapon absorbs half, which is 100.)
Medium: This weapon is also capable of storing the energy gained from the siphon and transfer ability for up to three post. The weapon is capable of holding up to 300 stats worth of siphon strength.
Major: The user is able to transfer all of the stored energy in their weapon to enter a beserk state which allows them to boost and distribute the amount of stat energy the weapon absorbs as they wish. This state lasts for a total of seven posts with a cool down of four during this change the user enters a red beastly state and can not even understand basic human communication. In addition the weapon enters its Unreleased State as a sign of its released power.
Cost: 0 (Noblord Clan)
Requirements: (Can only be used by Dabura Noblord or a person who possesses his Eyes.)