Clan Name:Inuzuka Clan
Clan Symbol: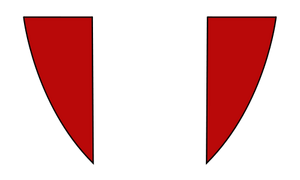 Clan History: The Inuzuka clan originated from a group of Shinobi who were very talented in Taijutsu and Exceptional in Ninjutsu and began training with Wolves to hone their skills. The wolves they trained with grew attached to them and followed them around, the clan members began to realize that they were a great asset. As they began to live amongst each other, the wolves traits passed on to the clan and the Inuzuka clans initial traits helped domesticate the Wolves into dogs that the next generation of the Inuzuka took in as companions. As this practice continued the dogs and the clan began to create specific techniques for them to use with one another. The Clan also began learning certain physical abilities from the wolves, such as running on all fours, and the clan eventually grew elongated canine teeth and their sense of smell got better as they spent all their time with the animals.
Clan Size:
 5 Charact
ers (30 i
n
A
c
t
u
a
l
i
t
y
)
Clan Appearance: 
The Inuzuka have very canine like features. They have sharp eyes and long canine teeth that protrude from their mouths. They have very wild, uncontrolled hair that is a light brown color and their skin is slightly tanned. They typically have black eyes with very light to no iris and are very recognizable for the bright red fang-like design on their cheeks which they are given at a very young
age.  
Clan Location:
 Yamigakure
Clan's Reputation: (The clan isn't very influential as they don't have many members and aren't very trusted because of their appearance and overall violent attitude, not much is known about them besides that they fight along their dogs like family.


Clan Ability/KKg Description: N/A Yet


Clan bonuses: Heightened physical abilities
 
Clan jutsus:
• Four Legged Technique- This technique grants animal-like accelerated fighting instinct and reflexes to the user. By enveloping their entire body in chakra and moving on all fours, they can obtain high speed movement and reflexes like that of a wild animal.
• Beast Human Clone- A modified version/mix of the Transformation technique and clone technique which is unique to the Inuzuka Clan, allows a canine-user to transform their animal companion into a perfect copy of themselves, but the clone keeps its animal properties.